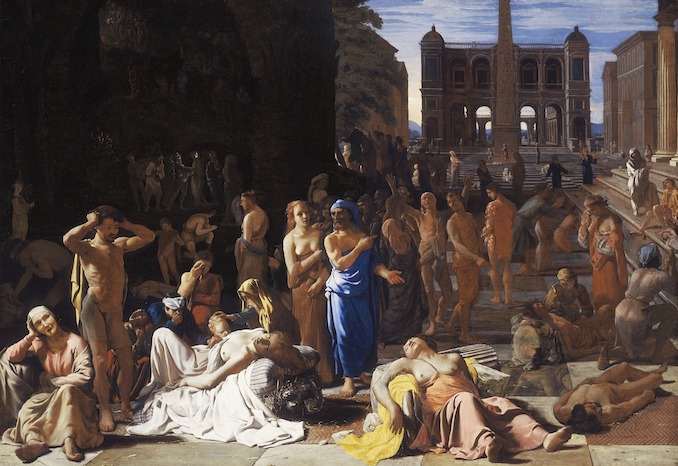 Plague in an Ancient City. Michael Sweerts (c. 1650). LACMA, Los Angeles. Photo: Wikimedia Commons Public Domain
As we read the daily news about Covid, we can perhaps alleviate our frustration by taking a look at this theme through a cinematic lens. We included some zombie movies on the principle that any well-constructed zombie story is really a metaphor for an infection—once infected, a zombie passes it to the next victim who happens along.
FEATURE FILMS
Monty Python and the Holy Grail (UK, 1975)
English literature and art are full of references to the mid-14th-century passage of the Black Death. It's no wonder that Monty Python, the celebrated English comedy group, makes references to it in a scene from a parody of life in the Middle Ages, a skit known as "bring out the dead." This is still a cinematic classic and a reminder that there are countries with a traumatic history of uncontainable health disasters.
Restoration (U.S., 1995)
Starring Robert Downey, Jr. when he was just a very talented actor rather than a superhero action figure, this film is a big-production period drama set during the period of restoration of the monarchy in England in 1660. Downey stars as King Charles II's royal physician during the last great plague in England in 1664-1666 that ended with the Great London Fire. While the main plot is a love story, there are scenes of both healing attempts and their futility in the face of the epidemic.
Outbreak (U.S., 1995)
This was a movie more designed to showcase Dustin Hoffman in action scenes than to analyze global infections, but it was one of the early films that used modern knowledge of pandemics in scenes about the search for the source of infection and the precautions that medical personnel must take. A group of army doctors, led by a character played by Hoffman, tries to trace and contain a new, Ebola-like virus that jumps into humans from African monkeys. Another doctor (Rene Russo) gets infected when her hazmat suit gets torn—drawing attention to the speed and ease with which we are told certain infections can spread.
28 Days Later (UK, 2002)
This dystopian horror film portrays England after a virus has turned the population into zombies. Police are trying to enforce female slavery, and a few survivors are trying to navigate the empty streets. Danny (Slumdog Millionaire) Boyle's thriller spawned a whole generation of modern zombie movies, but this one is designed as an allegory of a societal breakdown. There is a 2007 sequel called 28 Weeks Later directed by Juan Carlos Fresnadillo.
I Am Legend (U.S., 2007)
The movie derives from Richard Matheson's 1954 novel but retains little other than the title from the original. A cross between a zombie movie and a pandemic disaster dystopia, the movie features now-famous scenes of Will Smith taking long walks with his German shepherd—seemingly the only survivors of a zombie apocalypse. Long walks with your dog during a pandemic…. That bit now seems very prescient.
Doomsday (UK, 2008)
A thriller about Scotland being locked up in quarantine for decades, the movie's main contribution here is the concept of a national lockdown lasting for years. The movie is uneven, borrowing from John Carpenter's iconic Escape from New York and the Mad Max movies. It has interesting assumptions about containment being really impossible.
Blindness (U.S., 2008)
Julianne Moore and Mark Ruffalo star in this thriller about a sudden epidemic of blindness that strikes a city. It's a tale of survival in a community where the best and the worst human instincts come into play.
Carriers (U.S., 2009)
Now a classic, this thriller follows four friends who travel in search of a plague-free place and, while on the road, turn on each other. There is no need for monsters—people do everything themselves. Young Chris Pine stars.
Zombieland (U.S., 2009)
A great, nihilistic comedy, Zombieland showcases the absurdities of American life. However, reality since 2009 has long surpassed the screenwriter's imagination. In this fictional America, you can still buy Purell anywhere during the pandemic.
Contagion (U.S., 2011)
This 2011 movie directed by Steven Soderbergh has the dubious honor of being the most rented movie this year. Gwyneth Paltrow is Patient Zero, and the CDC works like a dream since it is run by Laurence Fishburne. Matt Damon is in his Bourne mode trying to save the world. Jude Law and Kate Winslet are scientists who (spoiler alert!) find and manufacture a vaccine in 87 minutes (the movie's length). Despite these cinematic shortcuts, scenes explaining methods of transmission and the ways in which the fabric of society can tear under pandemic pressure feel very close to home.
Black Death (UK, 2011)
This one is more for fans of horror than audiences seeking any realistic insights, but it features great knight-fighting scenes and the British actors Sean Bean and Eddie Redmayne. It is basically an adventure road movie in a medieval setting. A knight and a monk set out to find a village rumored to be immune to the plague. Witchcraft abounds.
World War Z (U.S., 2013)
World War Z is one of the best of the zombie movies. A United Nations researcher travels around the world trying to stop the spread of a zombie pandemic that is destroying one nation after another and threatening to eradicate humanity. Max Brooks' novel is much better than this screen adaptation, but then the movie stars Brad Pitt and has impressive zombie attack scenes. The novel is an allegory of various political systems and societies in the same way that Animal Farm was an allegory of real people and the Russian revolution. The movie is more concerned with the escape from a spreading outbreak and the race to find a cure. The virus is here represented by very picturesque zombies, but they can be easily understood as a metaphor for any infectious disease. Ironically, Pitt in 2020 was tapped to portray Dr. Fauci on Saturday Night Live.
Flu (South Korea, 2013)
An Ebola-like pandemic runs amok in a South Korean city, and the victims have only 36 hours to live. The city is in quarantine, riots break out, and political infighting starts. While this has not happened in South Korean society during the 2020 pandemic, there are other countries that may recognize their societies in this thriller.
The Last Days (Spain, 2013)
This is a thriller about social distancing pushed to the extreme. All humans have agoraphobia due to some mysterious virus, so when the protagonist needs to find his girlfriend, he needs to use tunnels and underground passages to avoid lethal exposure. Empty city squares, wildlife crossing deserted streets, empty shopping malls—all of this looks so familiar.
93 Days (Nigeria, 2016)
A fictionalized account of a very real outbreak of Ebola in Africa, the story centers on attempts to contain the virus brought over from Liberia by a Patient Zero to the 21 million city of Lagos in Nigeria.
Pandemic (U.S., 2016)
Set in the near future and after a viral pandemic has ravaged most of the world, the film tells the story of a doctor (Rachel Nichols) who travels from now-destroyed New York to Los Angeles, seeking survivors. Designed as a game thriller with a maximum of scares per minute, the movie tries to amp up the violence factor, but there are also some scenes of pandemic that could be relatable.
A Train to Busan (South Korea, 2016)
Another zombie horror film, A Train to Busan—set on a train and directed by award-winning director Yeon Sang-ho—is now a genre classic. It builds tension through little vignettes of disturbing occurrences (a dead doe, unusual ambulance traffic, etc.) that draw the attention of a businessman and his teenage daughter on board a commuter train now overrun by zombies. It's a survival story but also a tale of mistrust in whether authorities have citizens' health at heart. A 2020 sequel called Peninsula is a straight zombie apocalypse story.
It Comes at Night (U.S., 2017)
A few years back, virus pandemics were mainly a plot device for horror movies. This one uses this premise as well, telling a bleak story of a couple, stuck in self-imposed isolation in a cabin in the woods, who accept another family into their house. There are no good outcomes here.
Maze Runner: The Death Cure (U.S. , 2018)
The final installment of a franchise based on Young Adult books, the dystopian adventure reveals that a mysterious virus called "the Flare" can be cured by antibodies from youngsters—some of whom are immune. This part resonated quite well with current scientific findings that younger populations are largely immune to Covid-19.
Virus (India, 2019)
The film presents a fictionalized account of the real outbreak of the Nipah virus in Kerala, India. The movie came out in June 2019 and is, therefore, the closest in time to the Covid-19 pandemic events. It shows battles with a lack of resources, administrative barriers, and people's fear of being targeted or infected.
TELEVISION
Containment (2016, 1 season, 13 episodes)
This American remake of the Belgian show Cordon was a one-season show about an outbreak in Atlanta. The scope of an epidemic in real life has long since surpassed the imagination of the show's creators, but there are educational scenes showing how the police are used in blocking passages or patrolling streets to isolate an area. The show centers on individuals trying to evade or escape quarantine—an interesting sociological premise.
DOCUMENTARIES
The Virus Empire: The Silent Killer (Germany, 2008)
Interviews with experts along with animation and dramatization are used to describe modern viruses and the havoc they can wreak. The SARS epidemic is the main focus.
Outbreak: Anatomy of a Plague (U.S., 2010)
A documentary that uses a fictionalized story (of a stewardess who unknowingly contracts smallpox and spreads a virus) to analyze the potential of infectious diseases to spread in the modern world.
Insight: Slaughtered on Suspicion (UK, 2015)
This UK documentary focuses on the 2001 cattle epidemic of foot and mouth disease. It features Neil Ferguson, an Imperial College professor who was Tony Blair's advisor on the handling of this epidemic. Ferguson was also an advisor during the early days of Covid-19, crafting the UK quarantine policy until his sacking for non-compliance with his own lockdown advice.
Ebola, the Doctors' Story (U.S., 2016)
This one-hour HBO documentary features interviews with doctors about the Ebola outbreak.
The Flu that Killed 50 Million (UK, 2018)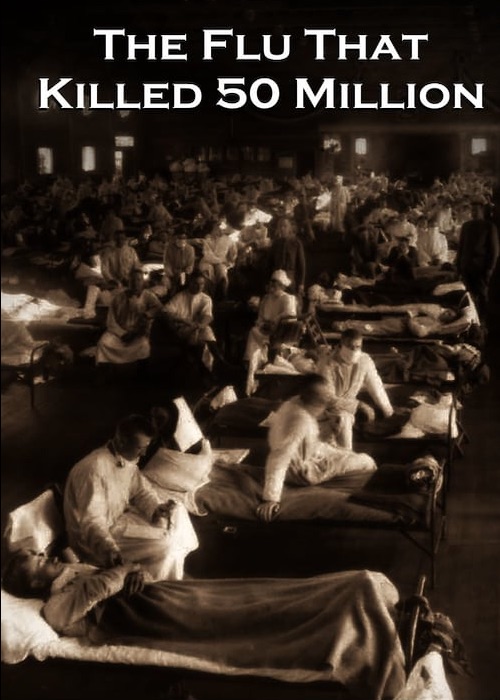 A one-hour BBC documentary about the 1918 flu pandemic.
American Experience: Influenza 1918 (U.S., 2016)
John Jones directed this episode from the long-running PBS history series American Experience to give an overview of causes and testimonies about the biggest pandemic the world had ever known… until now.
Deadliest Plague of the 20th Century: Spanish Flu (2018)
This is a popular YouTube documentary that sums up the 1918 pandemic.
Bill Gates: "The Next Outbreak?" (TED Talk, 2015)
No matter what your opinion is about Bill Gates, he did give a now-famous TED talk on unpreparedness for a global flu pandemic.
Pandemic: How to Prevent an Outbreak (TV show, 2020- )
Netflix's dashboard is displaying front and center a documentary TV show called Pandemic. The show follows several people on the front lines of public health. One is a medical worker in Mali who is trying to prevent an Ebola infection from moving from the countryside to the capital city of Goa. He relentlessly visits Ebola clinics and meets with villagers, keeping a tally of infections and spreading the word about prevention. There is a lot of prescience in the scenes of a New York epidemiologist who lectures that the issue is not "if" the next flu pandemic will come but "when." Her tireless efforts to train New York medical centers on proper epidemic procedures can now be watched with our present-day knowledge of New York City's struggles to contain the virus. The sad thing is that the doctor appears to have been thinking more about some isolated Ebola cases making their way to New York than about an all-encompassing viral pandemic.
Coronavirus (2020 episode of the Netflix show Explained)
A follow-up to a Netflix episode called "The Next Pandemic," which aired in November 2019 and was, unfortunately, updated by real events.
PROJECTS IN DEVELOPMENT
Predictably, the entertainment industry is already charging full steam ahead to bring to the screen the "true story" of a lifetime. Here are some of the upcoming movies in pre-production.
Untitled Charles Randolph China project (U.S.)
Charles Randolph is the screenwriter of The Big Short and Bombshell—two hard-hitting social dramas of recent years. He has paired with SK Global, one of the companies that was involved in the production of Crazy Rich Asians, to make his directorial debut, focusing on the early days of the coronavirus pandemic in China.
Songbird (U.S.)
From the action-movie producer Michael Bay (Transformers) and to be directed by Adam Mason (Into the Dark horror series), this is the first movie that will start shooting in Los Angeles since the virus lockdown. The cast includes Demi Moore, Craig Robinson, Paul Walter Hauser, and Peter Stormare. The story is set two years into the future, with a mutated virus continuing to wreak havoc worldwide. A delivery driver, who is immune, is crisscrossing an unnamed city while trying to reunite with his girlfriend.
Untitled TV series about Boris Johnson and the pandemic (UK)
A UK TV series to be directed by Michael Winterbottom will deal with the progression of political, social, and health decisions made in the UK during the pandemic. The series will focus on Boris Johnson and his rise to the position of UK Prime Minister on the eve of the public health crisis—and his handling of it. Johnson, famously, was one of the politicians dismissing the gravity of the situation only to fall gravely ill himself.